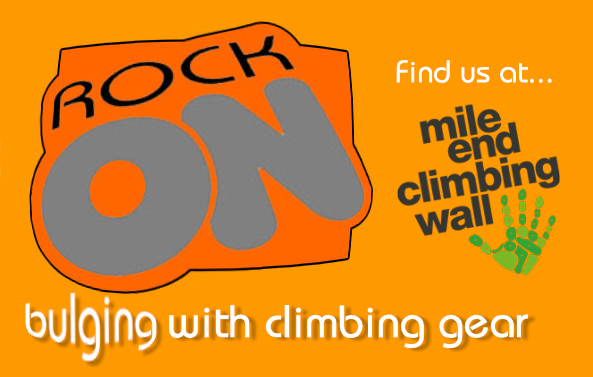 Many shops claim to be climbing specialists. At Rock On we sell climbing/mountaineering equipment & books and nothing else. NOTHING ELSE. Now that's specialist.

Not the sort of specialist shops which scare the life out of you (for some it's hi-fi, or computers, or hardware shops) or the sort where every purchase comes in a plain brown paper package . . .

Specialist doesn't have to be scary though. The aim of the shop team is to try to stop it being scary.

It's true we have a huge range; 50 or more models of rock shoes, at least 20 styles of harnesses, dozens of karabiners, countless ropes, etc, etc, blah, blah, blah. This isn't to befuddle and confuse, but to ensure we have the right gear for you and your needs (or you and your nerds). However a huge choice of gear is no good unless you know what you want/need/desire.

That's where the shop staff come in. At Rock On the staff are here not to fill shelves and take your money but to help you make informed decisions about what equipment is right for you.

All Rock On staff are active climbers (some might be described as hyperactive) and are always keen to talk to you about your climbing and your equipment. If you know exactly what you need, great – give us a call to see if we have it. If you're less sure that's great too, as you can still talk to us and we'll help you towards deciding what'll be good for you and your climbing.

For more info about the shop staff check out our staff profile page.

Why bang on about the staff? Because without them we would be just another shop (or website) selling climbing gear. We could have a massive range (we do) but without their expertise Rock On would just be a supermarket or warehouse where you are left to fend for yourself. Which is fine if you are happy to do that, if not then let us help you. Our staff have the luxury of being able to spend as long as you need to try on, talk about and fiddle with whatever equipment you want (or need) (or desire). Even on the phone they will take as long as you need. Which brings us neatly to –

Why can't you buy anything from this website? We want to ensure you get the right bit of gear for the right purpose. We really want to talk to you (it makes our job more fun too). If you know exactly what you want then that will be an easy conversation and if you don't then that will probably be a slightly more involved conversation.

Mail order? We will happily send any gear anywhere, see our mail order page.

If you are near Mile End, come and see us, if not give us a call. If you really can only contact us by e-mail then you can do that too.